e-mail

cartoon to your friends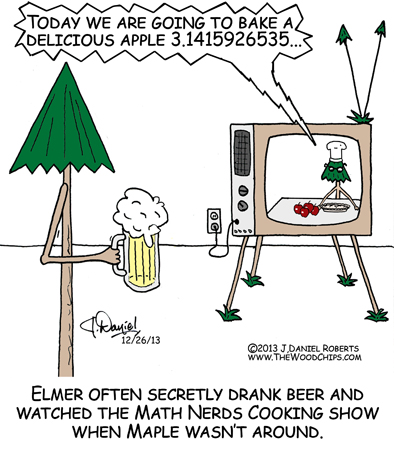 IN CASE YOUR FRIEND DIDN'T GET IT: Hey, we know you get the joke, but in case your friend didn't get it, you can tell them that 3.1415926535 is a special mathematical number called Pi.  So in the cartoon, they are going to bake an apple Pi (don't use your spell checker on this).
EXTRA CREDIT: Pi is used to calculate the distance around a circle.  Using Pi to ten digits as shown in the cartoon is so accurate it would calculate the distance around the earth to an accuracy within one inch.  Since the earth is about 24,000 miles around, that's pretty accurate.
P.S. If you noticed a glazed look in your friends eyes as you were telling them all of this, I'm betting they will NEVER ask you to explain a joke to them again in their lifetime.  That's just my male intuition talking… and no, male intuition is not an oxymoron.
IN CASE YOUR FRIEND DIDN'T KNOW WHAT AN OXYMORON IS: OK, OK… I may be getting a bit carried away with this (chuckle).
NOTE: TWO BONUS CARTOONS AT END OF NEWSLETTER
FREE 2014 WOODCHIPS CALENDARS AVAILABLE NOW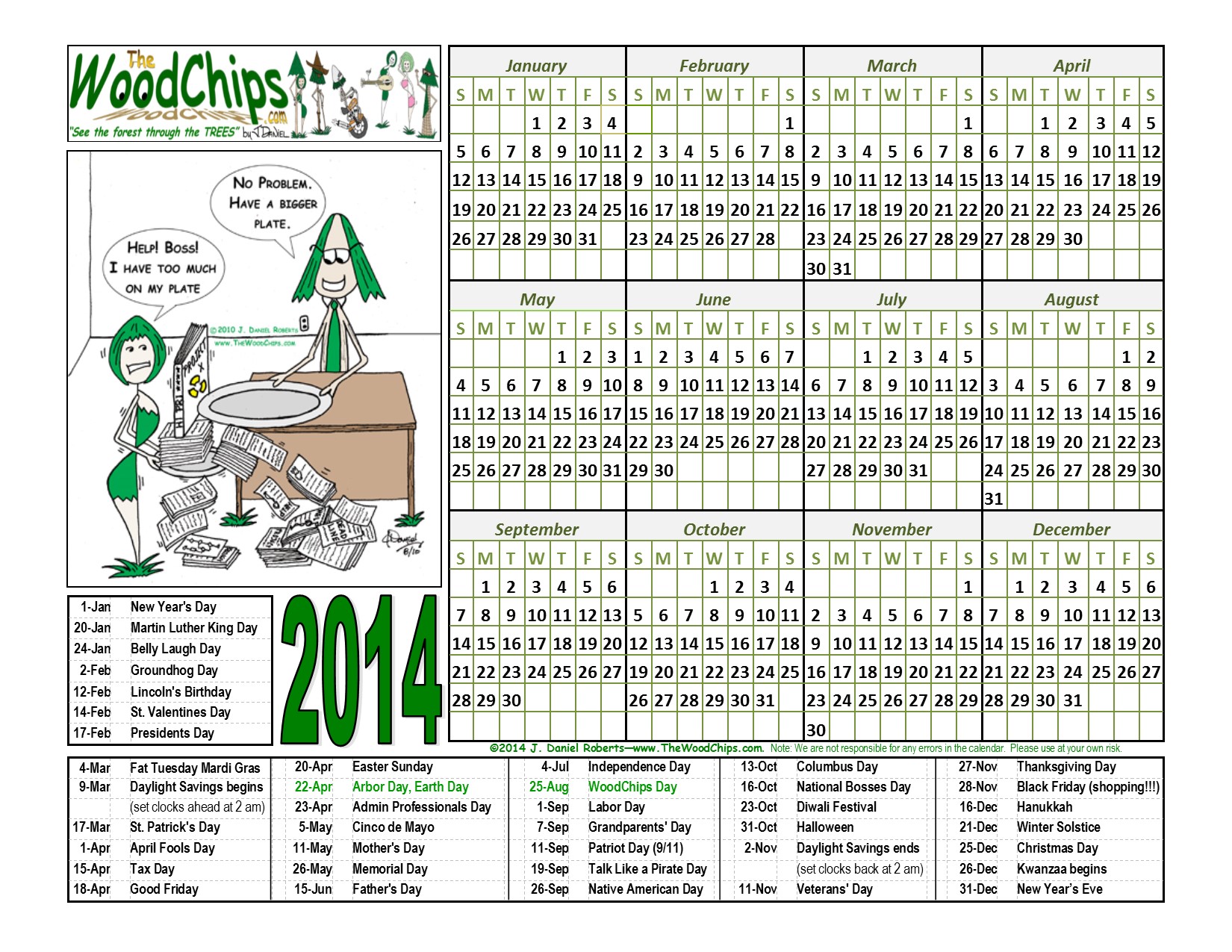 The FREE 2014 WoodChips Calendars are now available.  Currently there are ten to choose from.
Shown above is the second highest downloaded calendar in 2013.  I got the idea for the cartoon in a phone conversation one evening with enthusiastic WoodChipper Karen of Kansas City (also my sister).  Apparently, the overloaded work thing struck a resonant chord with many WoodChippers around the world.
BONUS CARTOON 1: VERY POLITICALLY INCORRECT
CAUTION:

THE SURGEON GENERAL HAS DETERMINED THE FOLLOWING CARTOON IS HAZARDOUS TO THE HEALTH OF POLITICALLY SENSITIVE PEOPLE.  CLICK BELOW AT YOUR OWN RISK.
BONUS CARTOON 2: ALWAYS LEAVE THEM WITH A SMILE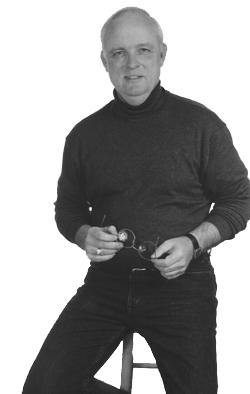 I must say it's good to be back in Orlando after my trip to the Great White North of St. Louis in January.  I love the city and the people, but someone needs to form a political action committee or something to do something about the weather (big grin). 
Most particularly fun was standing out in the Hilton parking lot at 6:00 AM so I could get to a 7:00 AM meeting, in -7 degree weather, 20 mph winds, scraping a foot of ice and snow off my car with the absolute cheapest, smallest, plastic ice scraper the rental car agency (name withheld) could possibly provide.  I was, of course, thinking the warmest of thoughts about how their purchasing agent must have gotten a big, fat promotion for his expense control expertise. 
So it took this long for my hands to thaw out to draw these cartoons and send them to you.
Wow, that's so lame even I'm not buying it (chuckle). 
Anyhow, we finally got the WoodChips out to you and hope you enjoyed this edition.  All the characters are just dying to know which cartoon was your favorite, so please send the name of your favorite cartoon to
JDaniel@TheWoodChips.com
and put "Favorite" in the subject.  I'll let you know the winner in our next edition.
The clear winner in our last edition was Be Careful What You Wish For – a Christmas cautionary cartoon.  Come to think of it, that's good advice all year round. 
So that's it for now.  Be sure and email because 
I love to read all of your thoughts and opinions.  And
 feel free to say what's on your mind, bend the facts to fit pet theories, or heck, use no facts at all and just let her rip in a stream of consciousness.  Factual, thought-out comments are also welcome, although viewed with great suspicion as they don't fit the format of the national debate.
You can send them to me at JDaniel@TheWoodChips.com.
P.P.S. And don't forget to forward this email to your friends.  They might enjoy it as well.  And, they can sign up for their own free newsletter by clicking here. 
Did you miss previous issues, or just signed up and would like to read more – or perhaps you're doing a serious research paper, or homework, and need an authoritative source like the WoodChips (chuckle).
Please forward this email to your friends so they can enjoy it too … the WoodChips just LOVE attention!  
© 2013 J. Daniel Roberts. All rights reserved    www.TheWoodChips.com