The "NEW" Laissez-Faire

EXXON Lobbyist

Another Voluntary Government Mandate
Woods To Live By
Where The Heck I've Been The Past Months


———————————————-

 

Why not forward this
e-mail to your friends 

Reader Comments




  

We've received over 30,000 comments on the WoodChips at the main site.   

   But we just couldn't beat this one (shown below), so we're going with it this issue.

   As they say, simplicity is the solution. –

J. Daniel

 

   WoodChips is so DAMN good.

   I can't believe how you get the time or focus to do it. 

 
The "NEW" Laissez-Faire
Today's cartoon puts me in mind of a whimsical little French story that happened long, long ago – about 1680 actually.Way
back then, through some accidental twist of fate, the French government
lost focus on trying to control everything.  I'm not sure why – could
be they were all on a multi-year holiday, or campaigning for re-election
or thinking about getting involved in another expensive foreign war
helping the American colonies.  Hmmm … my time frame may be off a bit on
that last one, but really, no matter the reason.
Because while they were off doing whatever, there was a lapse in government regulation of the economy.
Ha, ha – gotcha there, didn't I.  Total fiction.
There
is NEVER a lapse in government regulations, just enforcement.  That's
because enforcement requires work and follow-up, but creating
regulations is just about writing a bunch of stuff that other people are
supposed to do, and carefully phrasing it so it doesn't apply to you.
Okay, so that part is real.
Anyhow, during this accidental freedom thing, something really strange happened.  The  Click For More Laissez-Faire.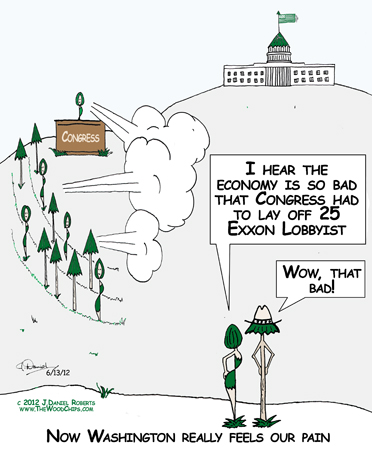 Okay, so I'd like your cartooning opinion on this one.
I toyed with the dialog and thought it could also say, "I hear the economy is so bad that EXXON had to lay off 25 Congressmen."  I don't know if I thunk that one up on my own or heard it somewhere (sounds very Jay Leno), but I think I actually like it better.
So which do you prefer …
Congress had to lay off Lobbyist
EXXON had to lay off Congressmen
Thanks and have a nice day – J. Daniel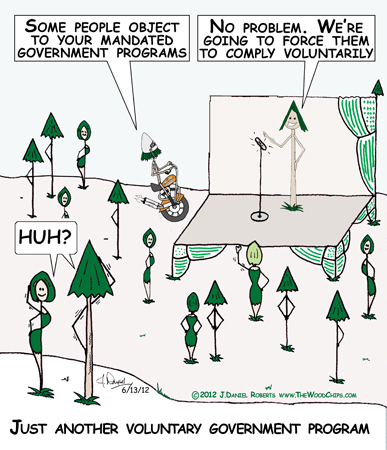 Another Voluntary Government Mandate

I'm just waiting to hear this oxymoron about forcing people to comply
with a government mandated program voluntarily, aren't you?
We have a
couple of candidates in the race now, Governor Romney and President
O'Bama, so we'll see if either one of them says it.  And of course, with
all the health care reform talk, the health care mandates and a Supreme
Court decision, it may just be a
Click For More Mandates.
"If a tree falls in a forest and lands on a politician, even if you can't hear the tree or the screams, I'll bet you'd at least hear the applause"
 Paul Tindale
Where The Heck Have I Been

For those who wonder where the heck the WoodChips Newsletter and I have been, since hasn't come out in a month or so, here's a brief explanation. 
Since late last year I've written two books.  One is entitled Stock Market For Beginners (130 pages), and the latest one is Stock Options For Beginners (175 pages). 
Also I put on a great oil trade recently that gained 49% in 8 weeks and created an animation about it called How To Be An Oil Speculator.  Then to relax a bit, I went camping in the wilds of Quebec, Canada at Mont Tremblant for a few days.  Outside of that, hey, nuthin' going on, really.
In any event, we're about ready to roll out the two books at my other site, www.LiveLearnAndProsper.com.  The WoodChips are for fun, your soul and your heartwood.  Live Learn and Prosper is for your life and investments.
So I'll share more of that when the books are released if you like.  In the meantime, you might find the animation on How To Be An Oil Speculator amusing – and possibly even informative.  You can watch it by clicking here Oil Speculator.
And there are more WoodChips coming to your heartwood in the future.
So that's the deal – and have a nice day – J. Daniel

Just click on the calendar to get … uh … well … the free calendar – also, more choices available
What can be better than Cool and Free?  So hey, get your FREE 2012 WoodChips calendars here … they have all the cool holidays like Belly Laugh Day, Talk Like A Pirate Day – even National WoodChips Day … and yeah, yeah, we have all the normal, boring holidays as well — big deal …
Also, there are other calendars to choose from … and we'll be adding
more in the next few weeks, so you might want to check back from time to
time…
No worries if you already get the newsletter (as in the one you're reading now).  Signing up multiple times to get more calendars for you and your friends won't flood your email – you'll still just get one newsletter when they come out.
So get your fun WoodChips calendars now, and have a nice day – J. Daniel
P.S. Please forward this newsletter to your friends so they can get their free WoodChips calendarsand the free WoodChips Newsletter as well.  The WoodChips just LOVE ATTENTION (go figure) and you'd be doing them a big favor!  And thank you in advance from all the WoodChips.
Please forward this email to your friends so they can enjoy it too … the WoodChips just LOVE attention!
P.S. Don't forget – if you have a friend who you think would like to get the WoodChips newsletter and be part of our forest, please forward me their first name and e-mail address. They'll get a polite invitation – which they can decline – and I never share my email lists. Just put Friend in the Subject Line. You can e-mail me here.
© 2011 J. Daniel Roberts. All rights reserved    www.TheWoodChips.com