Sketchy Politics

Will Romney Hit A Pothole?

What's Your Sign?

Do You Believe In Astrology?

The Ultimate Procrastinator

   2012 Mayan End Of World WoodChips Calendar

 

Why not forward this

e-mail to your friends

 

Reader Comments

Funny political comment from a British friend and gentleman.

   Just a quick note to thank you and the American people for the kindness and hospitality shown to our Prime Minister during his current visit.

   As I am sure you appreciate and understand you can always rely and trust us Brits.  Therefore if things in the US go totally bang (think Rik and Sarah in control!) you can totally rely on us to come back over and replant the flag and you start all over again. Ken Taylor – England

I think he's kidding about Santorum and Palin and re-colonizing America (chuckle) – J. Daniel
Okay, so some of you may think the bus looks a lot like an Etch-A-Sketch.
And some may think I am picking on Republican political candidate
Mitt Romney – who, by the way – just had a staffer say that after the
primary election was over they could just reset him (implied – on the
issues) like shaking an Etch-A-Sketch and making the screen blank again.
Hmmmm … well, you are right about the bus.  Strangely, it does
resemble an Etch-A-Sketch, what with those straight connected lines and
the white bus wheels that seem to resemble Etch-A-Sketch control knobs.
Funny how that worked out, really.
But you're only a little bit right on me picking on Mitt.  I am,
perhaps, going for bigger fish.  Like politics in general – in America -
and around the world – in the history of mankind (we think big here at
WoodChips Central).
You see, Mitt's developed a near fatal problem in the past few days.
And you will NEVER guess what it is.  I'm not talking about the fact
that Click For More Sketchy Politics.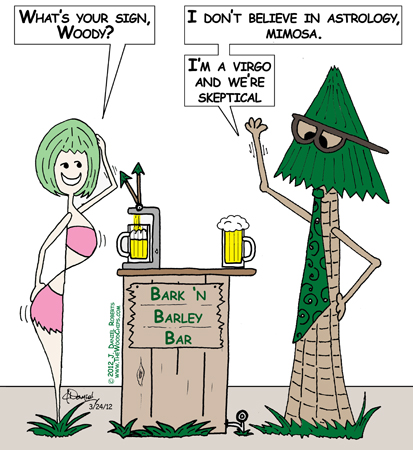 I got this cartoon idea from the late, great Arthur C. Clark, British
science fiction author, inventor and futurist extraordinaire.  He fired
my imagination as a young man, and I believe I've read virtually all of
his books.  You may know of him from the movie 2001: A Space Odyssey.
Someone once asked him what his sign was.  And he replied, "I don't
believe in astrology — I'm a Sagittarius, and we are skeptical."
I selfishly changed the sign to Virgo.  You may gather that I am a
Virgo.  We are said to be yawn-wide boring.  I wonder if Mitt Romney is a
Virgo?
Oh, and I am skeptical.
Have a nice day – J. Daniel
WoodChips Shopping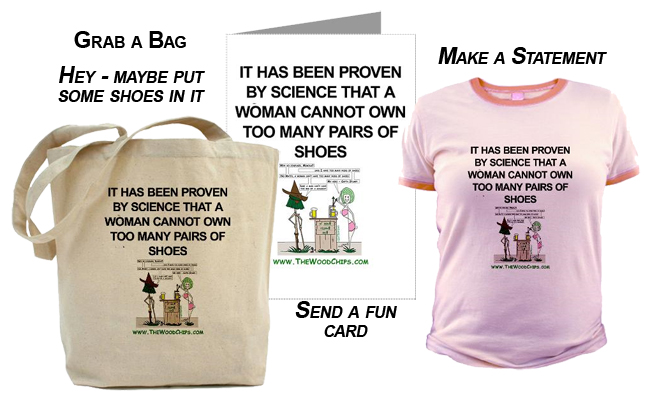 The Ultimate Procrastinator
(2012 Mayan End Of World WoodChips Calendar)
OK, so a lot of you have gotten your free 2012 WoodChips Calendars by now.  And then, some others haven't gotten around to it yet.  Hey, it's only March, right? (chuckle).
So for you ultimate procrastinators, and believe me, I admire your
staying power, we've created the Ultimate Procrastinators Calendar,
featuring the Mayan End Of The World – which, oh by the way, ends before
the year is out.
Our top level meetings here at WoodChips Central lead us to believe this would help you get around to downloading the calendar. 
This special calendar has the holidays after the end of the world
conveniently grayed out so you won't accidently plan something.
So go ahead and click here to get your free calendar, before the world ends. And I'd get cracking on that bucket list while your at it (chuckle).
Have a great day – J. Daniel
Just click on the calendar to get … uh … well … the free calendar – also, more choices available
What can be better than Cool and Free?  So hey, get your FREE 2012 WoodChips calendars here … they have all the cool holidays like Belly Laugh Day, Talk Like A Pirate Day – even National WoodChips Day … and yeah, yeah, we have all the normal, boring holidays as well — big deal …
Also, there are other calendars to choose from … and we'll be adding
more in the next few weeks, so you might want to check back from time to
time…
No worries if you already get the newsletter (as in the one you're reading now).  Signing up multiple times to get more calendars for you and your friends won't flood your email – you'll still just get one newsletter when they come out.
So get your fun WoodChips calendars now, and have a nice day – J. Daniel
P.S. Please forward this newsletter to your friends so they can get their free WoodChips calendarsand the free WoodChips Newsletter as well.  The WoodChips just LOVE ATTENTION (go figure) and you'd be doing them a big favor!  And thank you in advance from all the WoodChips.
Woods To Live By
"Rather than love, than money, than fame, give me truth."
– Henry David Thoreau
Please forward this email to your friends so they can enjoy it too … and the WoodChips just LOVE attention!
P.S. Don't forget – if you have a friend who you think would like to get the WoodChips newsletter and be part of our forest, please forward me their first name and e-mail address. They'll get a polite invitation – which they can decline – and I never share my email lists. Just put Friend in the Subject Line. You can e-mail me here.
© 2011 J. Daniel Roberts. All rights reserved    www.TheWoodChips.com