How Politicians Try To Be Mathematicians

Take A Stand-Cool Political Tree-Shirts

Deep Thoughts-Halloween Cartoon

Woods To Live By-Be Careful What You Ask Retired People
2013 Calendar Soon-When Is Cinco De Mayo?

2012 Calendars Still Free (chuckle)

———————————————-

 

Why not forward this

e-mail to your friends

 

Reader Comments

 …A comment we received on our Chicken Gizzard Soup cartoon and post …

Fantastic Site… this is absolutely fantastic.

   I've added your site to my list – T. Cloud

 

I have been absent for a while, but now I remember why I used to love this blog. 

 

    Thanks so much and I'll try and check back more often.

 

   How frequently you update your web site? S. Bobet
How Politicians Try To Be Mathematicians
So these days you've probably been hearing an awesome bunch of
government numbers thrown around in the news and debates – all
concerning taxes and the federal budget and deficit spending and what
not.
I certainly have, and while watching the last debate it put
me in mind of how real mathematicians treat numbers, which I will share
with you – and also a cool party ice breaker you may want to use
sometime.  So we'll be mixing a bit of business with pleasure in this
post.
Now hang in there with me because believe it or not – and
you'll be doubting it – I'm going to pull this all together in the end.
And, as I said, will be giving you a line that will make you sound
really smart at your next party.
So, pleasure first, I say —  let's get straight to the party ice breaker.
Imagine
you're at a cocktail party and there's a lull in the conversation.  You
could be real cool and casually say something like, "Do you know that mathematicians often use imaginary numbers.  They call one of them the number i.  It represents the square root of negative one, which is impossible to exist."
I'm
sure you can see the possibilities here – and may even be surprised you
haven't thought of this clever line yourself.  Because people are going
to think you are really, really smart.  Some may offer to go get you
another drink – maybe all of them, all at once … ummm, bolting off
rather quickly.
That aside, perhaps you're wondering why watching the political debates caused me to Click To See How This Nonsense All Ties Together
Take A Stand

-Cool

Political

Tree-Shirts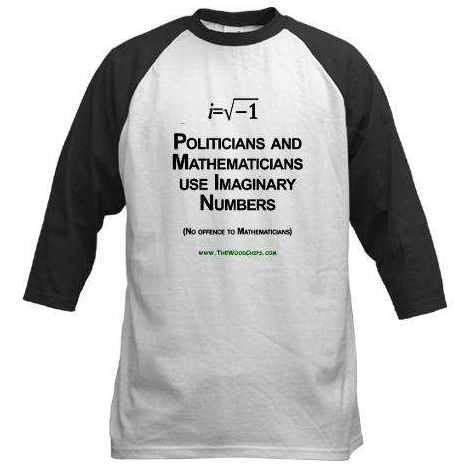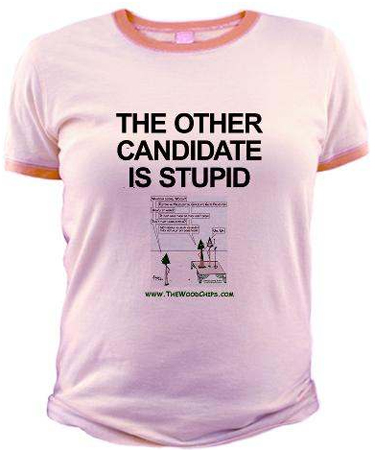 Hey, support your favorite politician by sporting these really cool Tree-Shirts. We've boiled the entire political debate down to it's essence for you.
Many colors and sizes available, plus cups, mugs, posters, cradle to grave benefits (oops – small math problem, scratch that last one – just kidding – over promised on the benefits and not running for election).
Tree-Shirts for as low as $12.99 AND all proceeds to be donated to my favorite charity (heh, heh).  Just click on the Tree-Shirt to browse through the selections – no obligation to buy.
P.S. Here's the cartoon shown on the second Tree-Shirt …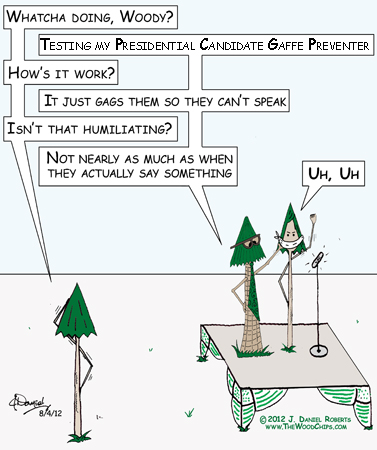 Deep Thoughts – Halloween

Cartoon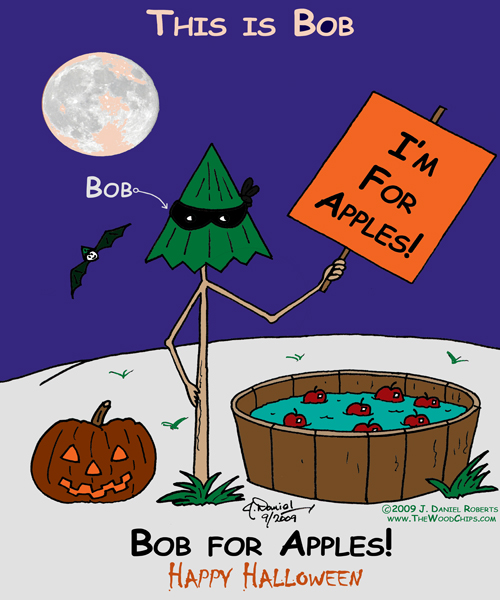 "Be

careful what you ask retired people

"
We received this cautionary story from
astute WoodChips reader Dave H. who either wrote it, experienced it, or got it
from the internets.  So don't say we didn't warn you — and, ummm …
don't try this at home.
   Yesterday I was at my
local grocery store buying a large bag of Purina dog chow for my loyal pet,
Jake, the Wonder Dog and was in the check-out line when a woman behind me asked
if I had a dog.
What did she think I had, an elephant?
So because I'm retired and have little to do, on impulse I
told her that no, I didn't have a dog, I was starting the Purina Diet again. I
added that I probably shouldn't, because I ended up in the hospital last time,
but that I'd lost 50 pounds before I awakened in an intensive care ward
with tubes coming out of most of my orifices and IVs in both arms.
I told her that it was essentially a perfect diet and that the way
that it works is to load your pants pockets with Purina Nuggets and simply eat
one or two every time you feel hungry. The food is nutritionally complete
so it works well and I was going to try it again. (I have to mention here that
practically everyone in line was now enthralled with my story.)
Horrified, she asked if I ended up in intensive care because the dog
food poisoned me. I told her no, I stopped to pee on a fire hydrant and a car
hit me.
I thought the guy behind her was going to have a heart attack he
was laughing so hard.
My local grocery store won't let me shop there anymore.  Better watch what
you ask retired people. They have all the time in the world to think of crazy things
to say. Forward this (especially) to all your retired friends… it will be
their laugh for the day!
2013 Calendars Soon – Just When Is Cinco De Mayo?
Folks here at WoodChips Central have been working at a feverish pace to get the 2013 calendars ready.  They are just about there (see draft image below), so stay tuned.
Of course the Calendar Project has had it's share of setbacks – like all projects.  First off, some members of the team questioned even doing the project, pointing out that the world was going to end on December 21st according to the Mayans – see
World Ends 1
and
World Ends 2.
I noted this was a fair point, but in a silly gesture of optimism, I said let's do it anyway, just in case the world doesn't end.  Also, being the Project Manager, had I canceled the project, I wouldn't have had anything to do.
Then there was the deadline challenge as team members asked exactly when the deadline for completion was.  After careful consideration, I said it should be done before 2013.  There was a bit of grumbling on this point, I think mostly from the end of the world faction, but eventually I think there was a general agreement that producing a 2013 calendar before it actually was 2013 would prove most useful.
And finally, there was the big flap over just exactly what date the holiday Cinco De Mayo actually occurs on.  Some of us pointed out that Cinco de Mayo is Spanish for 5th of May — ummm … and we were thinking the holiday probably fell on the 5th of May.  More dissension, again, I think from the end of the world crowd.  It was almost like these folks like the end of the world concept because it excuses them from actually having to plan for or do anything – but that may just be crass on my part.
Finally, we settled the whole thing by looking it up on the Internets (as a former President used to call it).  Sure enough, Google search proved that Cinco De Mayo actually does fall on the 5th of May.  Go figure.  And before anyone could challenge that, I reminded them that if it's on the Internet, it's always true.  That stopped them dead in their tracks.
So it's been a pretty successful project so far, i.e. the purpose challenged, deadline disagreed on and specification confusion.  All in all, great progress.
So stay tuned.  We'll have your free downloadable calendars by next issue.  And before 2013.
Have a nice day – J. Daniel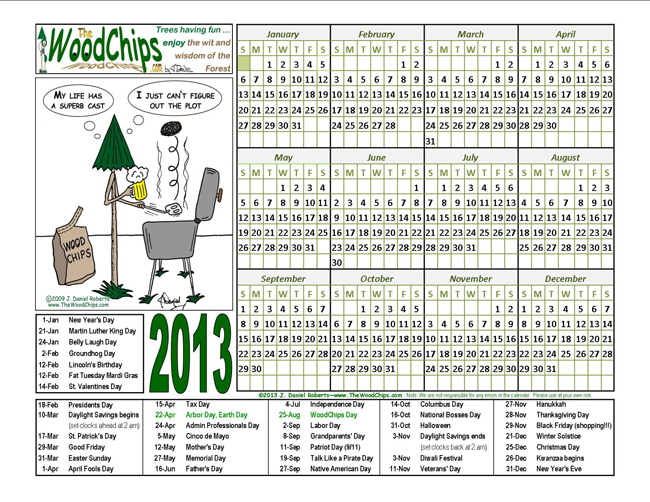 2012 Calendars Still Free
For those procrastinators out there that are still holding out on downloading your free 2012 WoodChips calendars, my hat's off to you.  You are clearly "best in class" on procrastination.  I must say, even I can't beat that record (chuckle) – and I'm pretty good at it. 
Just click on the calendar to get … uh … well … the free calendar – also, more choices available
What can be better than Cool and Free?  So hey, get your FREE 2012 WoodChips calendars here … they have all the cool holidays like Belly Laugh Day, Talk Like A Pirate Day – even National WoodChips Day … and yeah, yeah, we have all the normal, boring holidays as well — big deal …
Also, there are other calendars to choose from … and we'll be adding
more in the next few weeks, so you might want to check back from time to
time…
No worries if you already get the newsletter (as in the one you're reading now).  Signing up multiple times to get more calendars for you and your friends won't flood your email – you'll still just get one newsletter when they come out.
So get your fun WoodChips calendars now, and have a nice day – J. Daniel
P.S. Please forward this newsletter to your friends so they can get their free WoodChips calendarsand the free WoodChips Newsletter as well.  The WoodChips just LOVE ATTENTION (go figure) and you'd be doing them a big favor!  And thank you in advance from all the WoodChips.
Please forward this email to your friends so they can enjoy it too … the WoodChips just LOVE attention!
P.S. Don't forget – if you have a friend who you think would like to get the WoodChips newsletter and be part of our forest, please forward me their first name and e-mail address. They'll get a polite invitation – which they can decline – and I never share my email lists. Just put Friend in the Subject Line. You can e-mail me here.
© 2011 J. Daniel Roberts. All rights reserved    www.TheWoodChips.com