Playing Federal Government

Can Women Own Too Many Pairs Of Shoes?

   50% Of You Think The Answer Is Obvious

The Ultimate Procrastinator

   2012 Mayan End Of World WoodChips Calendar

 

Why not forward this

e-mail to your friends

 

Reader Comments

Health Tip From An Astute WoodChips Reader

 

  

… the WoodChips should come with a health hazard warning -  I laughed so hard I had to pee a little bit to relieve the pressure to keep from throwing my back out. — Shiona G.

My Response

– Dear Shiona.  Thanks for the health warning alert and the useful back saving technique – perhaps our other readers will find it helpful.  For this great health tip, you are now awarded the Honorary WoodChip Award.  Keep them cards and letters coming … and  … ummm … go easy on your back, however you do that (chuckle) –

J. Daniel
Ineptocracy – Just Say No
Here's a new word for you that recently showed up on the internet -
Ineptocracy.  It was brought to my attention by astute WoodChips reader
Marty C.
Ineptocracy noun. (in-ep-toc'-ra-cy) – a
system of government where the least capable to lead are elected by the
least capable of producing, and where the members of society least
likely to sustain themselves or succeed, are rewarded with goods and
services paid for by the confiscated wealth of a diminishing number of
producers.
This word kind of confirms a nagging suspicion I've had that our
politicians are granting political favors to blocks of voters so they
can get re-elected.  Now that's rather cynical of me, but I keep running
into these things that make me think we have the best government money
can buy.
Like alcohol, for instance.  Only the government could screw up such a wonderful product. You just aren't going to believe this … click for more Alcohol and Ineptocracy
Can A Woman Really Own Too Many Pairs Of Shoes?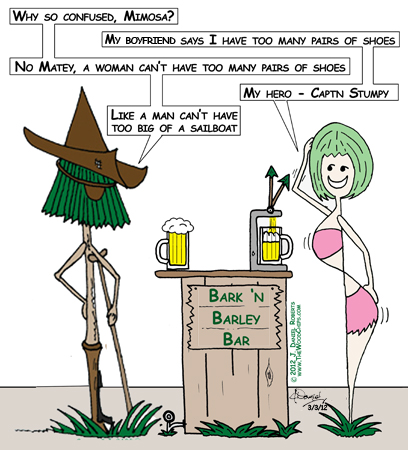 This cartoon was inspired by a Facebook post from Kim G.  Kim has now been made an Honorary WoodChip for her insightful question and inspiration.  You can see her name listed among other luminaries in our prestigious Honorary WoodChips list –
click here at Honorary WoodChips.
Kim is also the Go To Guru of all things in Social Media.  So whether you are a professional looking to increase traffic to your site, or a FaceBook poster that wants to be better at it than all your friends (not that any of us are competitive or anything, heh, heh), you will want to visit her site at
Kim's Site – click here.
WoodChips Shopping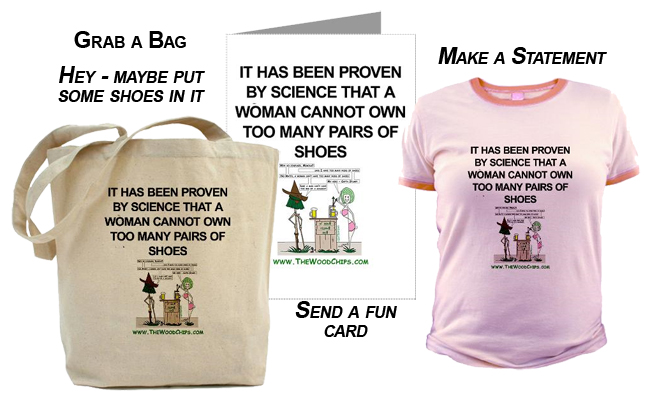 The Ultimate Procrastinator
(2012 Mayan End Of World WoodChips Calendar)
OK, so a lot of you have gotten your free 2012 WoodChips Calendars by now.  And then, some others haven't gotten around to it yet.  Hey, it's only March, right? (chuckle).
So for you ultimate procrastinators, and believe me, I admire your
staying power, we've created the Ultimate Procrastinators Calendar,
featuring the Mayan End Of The World – which, oh by the way, ends before
the year is out.
Our top level meetings here at WoodChips Central lead us to believe this would help you get around to downloading the calendar. 
This special calendar has the holidays after the end of the world
conveniently grayed out so you won't accidently plan something.
So go ahead and click here to get your free calendar, before the world ends. And I'd get cracking on that bucket list while your at it (chuckle).
Have a great day – J. Daniel
Just click on the calendar to get … uh … well … the free calendar – also, more choices available
What can be better than Cool and Free?  So hey, get your FREE 2012 WoodChips calendars here … they have all the cool holidays like Belly Laugh Day, Talk Like A Pirate Day – even National WoodChips Day … and yeah, yeah, we have all the normal, boring holidays as well — big deal …
Also, there are other calendars to choose from … and we'll be adding
more in the next few weeks, so you might want to check back from time to
time…
No worries if you already get the newsletter (as in the one you're reading now).  Signing up multiple times to get more calendars for you and your friends won't flood your email – you'll still just get one newsletter when they come out.
So get your fun WoodChips calendars now, and have a nice day – J. Daniel
P.S. Please forward this newsletter to your friends so they can get their free WoodChips calendarsand the free WoodChips Newsletter as well.  The WoodChips just LOVE ATTENTION (go figure) and you'd be doing them a big favor!  And thank you in advance from all the WoodChips.
Woods To Live By
"The Senate is now considering increasing government subsidies for corn growers to produce more ethanol. If we produce enough ethanol we can postpone our next invasion of a Middle Eastern country for two to three years."
– Jay Leno
Please forward this email to your friends so they can enjoy it too … and the WoodChips just LOVE attention!
P.S. Don't forget – if you have a friend who you think would like to get the WoodChips newsletter and be part of our forest, please forward me their first name and e-mail address. They'll get a polite invitation – which they can decline – and I never share my email lists. Just put Friend in the Subject Line. You can e-mail me here.
© 2011 J. Daniel Roberts. All rights reserved    www.TheWoodChips.com