CREATED SPECIALLY JUST FOR YOU…

TO RECOGNIZE ALL THAT YOU DO

Your friends will ask where you got this unique jewelry

A CHRISTMAS WISH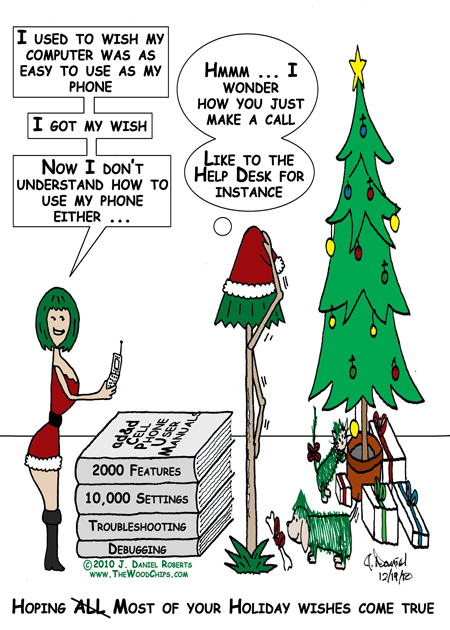 WOODCHIPS CHRISTMAS CARDS AVAILABLE
for all cartoons in this newsletter.
Please disregard that some buzz kill Bah Humbug type suggested we were a bit late offering these… we prefer to think we are VERY early for the 2015 Christmas Season!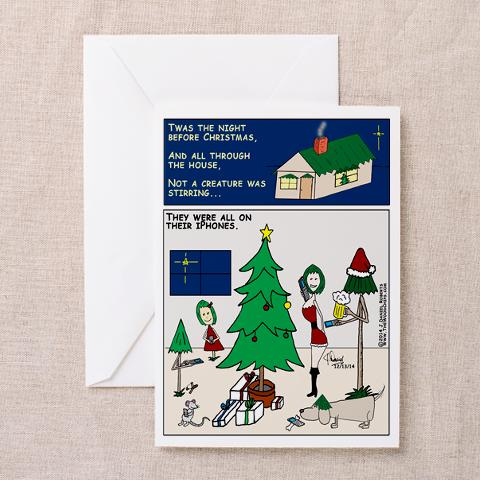 THE PERFECT COUNTRY WESTERN CHRISTMAS SONG
Get 4.333 More Smiles Per Month and Keep Your Life From Spinning Out Of Control with the new 2015 WoodChips Weekly Planner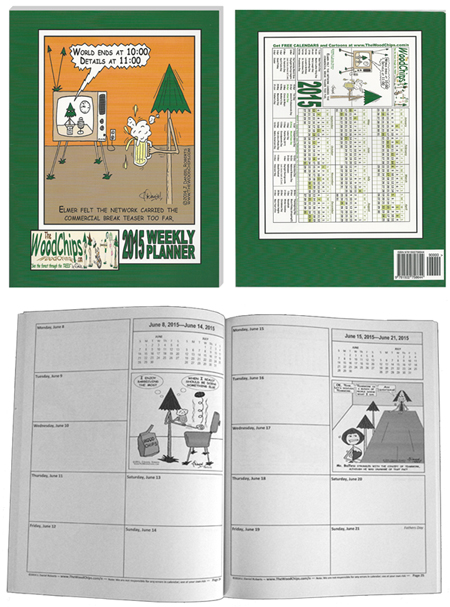 Hey,
those funky monthly calendars only have 12 pictures for the year and
tiny, microscopic little boxes to write in all your important stuff.
You could run out of space!  Miss important things!  Your life could
spin out of control!  Aaaarrggghhhh!!!!
But the WoodChips Weekly
Planner has BIG, 8 1/2 by 11 inch pages, one per week… and a cartoon
per page to keep you smiling all week long.  Just do the math.  Instead
of 12 cartoons you get 52.  That's 52 / 12 = 4.333 more smiles per
month.
And big boxes to write all your important stuff!
By the way, the WoodChips are regularly viewed in over 150 countries.  Here's what people are saying about them…
This
is fabtabulous!!! I loved it  Made me smile and smile and smile and…
you get the idea (Rena Schrein – CEO – North Carolina)
He has a clever theme and a timely one… (Eleanor Ehrhardt – former editor at Random House)
WoodChips are so DAMN good… Bob Gerringer, Los Angeles)
So get your 4.3333 more smiles per month.  Just click here for the WoodChips 2015 Weekly Planner.
And don't let your life spin out of control
–
Just click here to get your calendar now.
DEAR SANTA
A MAKE A STATEMENT (while you're goofing off)
A CHRISTMAS CHOICE
A PREHISTORIC CHRISTMAS
(When the NeanderTrees go clubbing, they really go clubbing)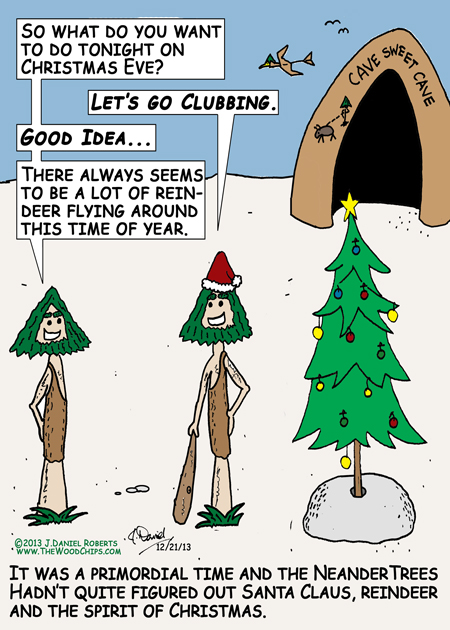 SO WHAT WAS YOUR FAVORITE CARTOON?
A. Twas The Night Before Christmas
B. A Christmas Wish (complicated phone)
C. Perfect Country Western Song by Red Foliage
D. Dear Santa (slim body / fat bank account)
E. A Christmas Choice (church near, tavern far)
F. Prehistoric Christmas (with the NeanderTrees)
Just shoot me an email here at
JDaniel@TheWoodChips.com.
YOU WILL LAUGH OUT LOUD!!!
GET YOUR CHUCKLES HERE
in the FIRST EVER WOODCHIPS CARTOON BOOK
Now AVAILABLE on Amazon!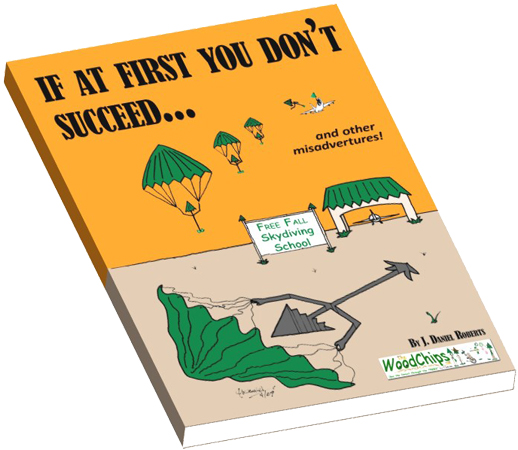 Winston Churchill once said that when you make someone laugh, you give them a little vacation.
Which is what you will do for yourself as you enjoy more of the WoodChip's antics as they keep on saving
our planet, one chuckle at a time. 
The WoodChips are spunky tree characters with names like
June Nipper, Woody, DeadWood, Mimosa, Maple and Elmer – to name a few – all
poking fun at things and helping us to "see the forest through the Trees."
The book is chock full of over 60 of the BEST WoodChips cartoons!  Like…
Never Do Math In A Bar
Friends Don't Let Other Friends Do Stupid Things… Alone
Coach KickAsh Is A Genius
And many more
And you get an introduction to ALL 18 of the WoodChips characters.  Hey, it's a virtual Tour de Forest of WoodChipdom, with more characters like Capt'n Stumpy, Mr. BigTwig, Dr. TreeAge, Sir BranchALot, Van Bough, DogWood (he's a WoofChip) and others.
Plus 7 humorous articles to boot — like Chicken Feathers Will Save The World, or If At First You Don't Succeed, Skydiving Is Not For You (where the book title came from).
And give yourself a mini-vacation.
Comments welcome – JDaniel@TheWoodChips.com.
NEW 2015 FREE WOODCHIPS CALENDARS NOW AVAILABLE
Many calendar / cartoon choices available!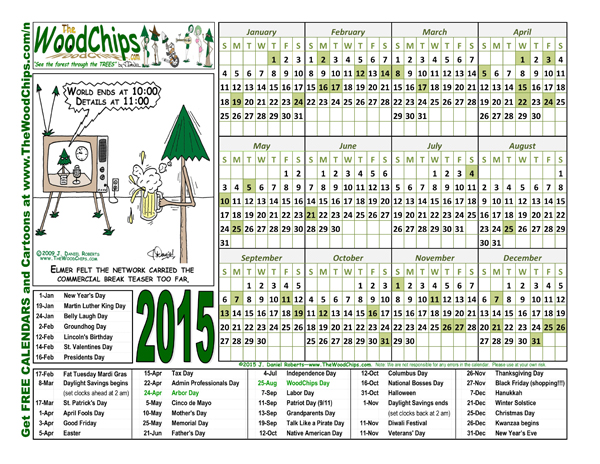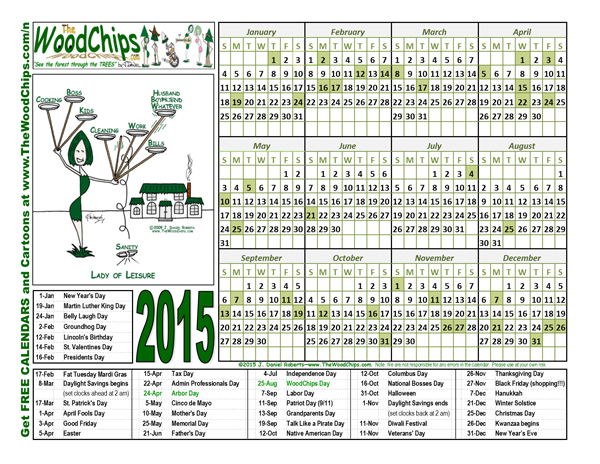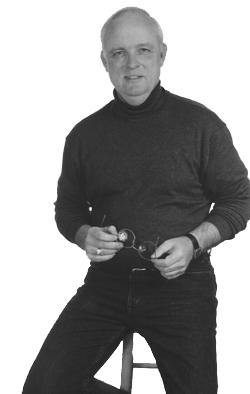 I hope you enjoyed our big Christmas edition and our cartoons of Christmas Past.  We sure had a lot of fun with it. Please spread the Christmas Cheer by forwarding this newsletter to your friends
.
It's been a great year sharing the WoodChips with all of you.  From myself and all the WoodChips, we're wishing you a Very Merry Holiday Season, and that all your wishes come true… hmmm… except for that complicated cell phone / computer wish thing.
Well, that's it for this edition, so before I get all maudlin and misting up  and stuff… raising a glass to your health and shouting out… Merry Christmas.
And don't forget, you can't believe everything you see on the "internets."  Except the WoodChips stuff, of course.
Be sure and email us because we
love to read all of your thoughts and opinions.  And
 feel free to say what's on your mind, bend the facts to fit pet theories, or heck, use no facts at all and just let her rip in a stream of consciousness.  Factual, thought-out comments are also welcome, although viewed with great suspicion as they don't fit the format of the national debate.
You can send your comments to me at JDaniel@TheWoodChips.com.
P.S. And don't forget to forward this email to your friends.  They might enjoy it as well.  And, they can sign up for their own free newsletter by clicking here. 
Did you miss previous issues, or just signed up and would like to read more – or perhaps you're doing a serious research paper, or homework, and need an authoritative source like the WoodChips (chuckle).