This Edition:

Hoping Most Of Your Christmas Wishes Come True

- A Banker's Christmas

- Can You Say Wan Paw?

(how my faith in the Media was restored)

And:

2012 WoodChips Calendars – FREE!

 

Why not forward this

e-mail to your friends

 

Reader Comments

About: American Politics

   Have been watching the comedy show(s) called Presidential debates.  Whose going to be in the lead in the polls this week?  About time Michelle Wacko got back into the lead again!  Some of it has been unbelievable but well Dan……….that's America!     …Mind you we're not much better over here especially re the current fiasco's re Europe and the Euro currency. -Ken T. (England)

Ken, you hit the nail on the head about American politics – We are having a regular circus over here across the pond … Monty Python has got nothing on us – uh – no offense meant to Monty Python. – J. Daniel 
Hoping Most Of Your Christmas Wishes Come True
Have you ever had this happen?  Maple got a new cell phone for
Christmas and her and Elmer are puzzled about how to use the darn thing.
Especially how to just make a simple phone call.
I'm sensitized to that fact because I recently made a phone upgrade
with major phone carrier Runs Fast (not their real name).  It seems like
our technology just gets more complicated by the day.  I'll bet Maple
and Elmer are thinking, "be careful what you wish for, you just might
get it," about now.
But there's a silver lining to the story — after all, she did get
her wish.  And I find that quite often we really can get what we wish
for if we make the right wishes, and plan, and set goals.
You'll be hearing more about that in the future.  But just now, in
the spirit of the season, I'm hoping most of your Christmas wishes come
true, and ALL of them come true if they work out the way you anticipated
– or better.
From the WoodChips and me, thanks for being the most important part
of our WoodChips Forest in 2011.  And speaking of wishes and goals, because of you, the WoodChips have
gone from being regularly viewed in 85 countries around the world to 106
countries this year, and from 54,000 site hits a month, to over
130,000.  We are rapidly approaching the million hits mark.  So you have made our wishes come true.
Wishing you and yours the best of the holiday season – J. Daniel
Dear Santa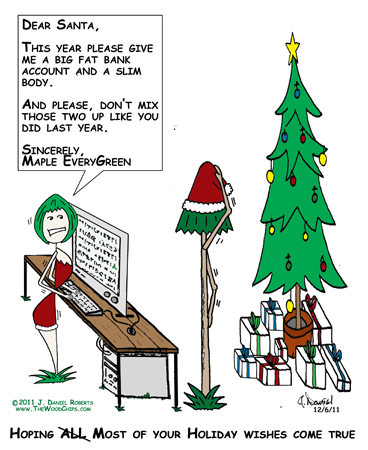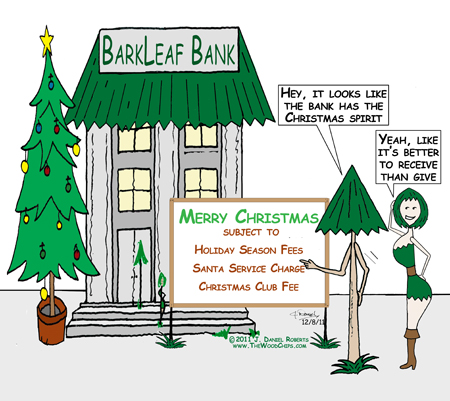 There I go picking on bankers again.  I guess I'm just fee'd up (chuckle).
I got a lot of email about our last edition and picking on bankers, and how there were many other causes for our current blahs in the American economy.  And I agree with my critics – there's plenty of blame to pass around. 
So maybe I'll try to make a New Year's resolution to lay off of them for a while.  What do you think?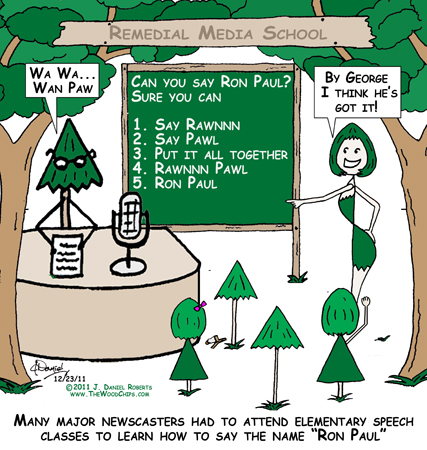 Okay, so I'm a little ashamed to admit this.  But for a while there I
was beginning to think the major media in this country was not being so
fair and balanced.  I'm referring to their reporting of our new
American reality TV show called
The Presidential Primaries
.Most specifically, I'm thinking about the inability of their newscasters to pronounce the name Ron Paul.  That seems simple enough.  It's just two, one-syllable words.  Rawn
Pawl, phonetically speaking.  And you would think these giants of
journalism would have no problem saying something as simple as that.But that's just my opinion, so I did some field research to test it.
While visiting my neighbors the other day, I asked their two year old
daughter Margaret to say Ron Paul.  Here's a record of that boots on the
ground field research.
J. Daniel:  Can you say Ron Paul?
Margaret: Wan Paw
Case closed – even a two year old can pronounce his name.
For those of you who don't know who Ron Paul is, he's one of the
contenders for President in the Republican Party.   And he's appeared on
national TV every debate night along with all the other Presidential
hopefuls like Michele Bachmann, Rick Perry, and hmmmm … I forget the
other ones – oops.
Love him, hate him, or don't know who he is, he darn near took first
place back in August in the Iowa straw poll, coming in second, just
barely behind flavor of the week Michele Bachmann, who took first place,
and ahead of Mitt Romney, Newt, Rick Perry, etc.
You would have thought the media would be all over that – after all,
it was a pretty big surprise.  But no, all they reported on was Michele,
and Newt and Rick and Mitt.  But no Ron Paul.  And their reporting has
been pretty sparse ever since then.
Huh?  How about the guy that almost beat number one Michele Bachmann -
missed by a nose – Ron Paul?  Not a word.  Not a peep.  Like down at
the racetrack, if the announcer called out the names of the horses who
won first … third and fourth (not that I play the ponies, mind you …
ahem).  Whatever happened to win, place and show?  It's been like the
major newscasters couldn't pronounce his name.
Which struck me as a bit odd.  After all, they have no problem
pronouncing names like Mahmoud Ahmadinejad (Persian: محمود احمدینژاد,
Mahmūd Ahmadinezhād [mæhˈmuːd(-e) æhmædiːneˈʒɒːd] English:
/ɑːkməˈdɪnɨʒɒd/.  You know, that prince of a fellow and Islamic
President of Iran.
So for a while there, I began to have negative media thoughts, like …
well, maybe they weren't so fair and balanced, or maybe they were
pushing their favorites, and even maybe they were trying to pick – or
anoint – the winner – instead of that silly old boring stuff like just
reporting the news and letting us decide.
I know, I know … rather cynical of me to think that way.
Okay – so that's all old news.  But here's where it gets interesting,
because this is a story of redemption, of how my faith in the media was
restored.
It eventually occurred to me that … (click for more Wan Paw)
Hmmm … strange name for a drink, really…
You'd a thunk Elmer would too …
Just click on the calendar to get … uh … well … the free calendar – also, more choices available
What can be better than Cool and Free?  So hey, get your FREE 2012 WoodChips calendars here … they have all the cool holidays like Belly Laugh Day, Talk Like A Pirate Day – even National WoodChips Day … and yeah, yeah, we have all the normal, boring holidays as well — big deal …
Also, there are other calendars to choose from … and we'll be adding
more in the next few weeks, so you might want to check back from time to
time…
No worries if you already get the newsletter (as in the one you're reading now).  Signing up multiple times to get more calendars for you and your friends won't flood your email – you'll still just get one newsletter when they come out.
So get your fun WoodChips calendars now, and have a nice day – J. Daniel
P.S. Please forward this newsletter to your friends so they can get their free WoodChips calendarsand the free WoodChips Newsletter as well.  The WoodChips just LOVE ATTENTION (go figure) and you'd be doing them a big favor!  And thank you in advance from all the WoodChips.
P.P.S. Also, don't mess with dragons (chuckle) – just a little health
tip for you … or you'll be having a bad day at the office like Sir
BranchALot in this issue's cartoon.
Woods To Live By
 "The Supreme Court has ruled that they cannot have a nativity scene in Washington, D.C.  This wasn't for any religious reasons. They couldn't find three wise men and a virgin."
"Never worry about the size of your Christmas tree.  In the eyes of children, they are all 30 feet tall."
"Merry Christmas, Nearly Everybody!"
"Christmas is a time when kids tell Santa what they want and adults pay for it. Deficits are when adults tell the government what they want and their kids pay for it."
Richard Lamm
Please forward this email to your friends so they can enjoy it too … and the WoodChips just LOVE attention!
P.S. Don't forget – if you have a friend who you think would like to get the WoodChips newsletter and be part of our forest, please forward me their first name and e-mail address. They'll get a polite invitation – which they can decline – and I never share my email lists. Just put Friend in the Subject Line. You can e-mail me here.
© 2011 J. Daniel Roberts. All rights reserved    www.TheWoodChips.com