This Edition:

Not A Flop-Flipper

Also:

Mayan 2012-Another End of World

Plus:

Bonus Super Bowl Prediction

(Mimosa Calls It At The Bark n' Barley Bar)

And:

2012 WoodChips Calendars – FREE!

 

Why not forward this

e-mail to your friends

 

Reader Comments

Nice Comment on our WoodChips Coffee Mug

 

  

… the WoodChips mug gets put to good use regularly.

   Dan, I continue to follow your updates, so keep um coming and follow your passion.

Eric – good to hear from you and thanks for the good words.

   The WoodChips are breaking all records now – viewed in 110 countries around the world and approaching a million site hits.     Treeific, I say – J. Daniel
Mayan 2012 – Another End Of The World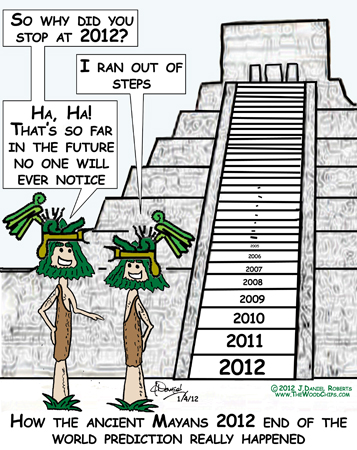 Bonus Super Bowl Prediction
All the WoodChips will be gathering at the Bark n' Barley Bar to watch the Super Bowl.
Just click on the calendar to get … uh … well … the free calendar – also, more choices available
What can be better than Cool and Free?  So hey, get your FREE 2012 WoodChips calendars here … they have all the cool holidays like Belly Laugh Day, Talk Like A Pirate Day – even National WoodChips Day … and yeah, yeah, we have all the normal, boring holidays as well — big deal …
Also, there are other calendars to choose from … and we'll be adding
more in the next few weeks, so you might want to check back from time to
time…
No worries if you already get the newsletter (as in the one you're reading now).  Signing up multiple times to get more calendars for you and your friends won't flood your email – you'll still just get one newsletter when they come out.
So get your fun WoodChips calendars now, and have a nice day – J. Daniel
P.S. Please forward this newsletter to your friends so they can get their free WoodChips calendarsand the free WoodChips Newsletter as well.  The WoodChips just LOVE ATTENTION (go figure) and you'd be doing them a big favor!  And thank you in advance from all the WoodChips.
P.P.S. Also, don't mess with dragons (chuckle) – just a little health
tip for you … or you'll be having a bad day at the office like Sir
BranchALot in this issue's cartoon.
Woods To Live By
"The Senate is now considering increasing government subsidies for corn growers to produce more ethanol. If we produce enough ethanol we can postpone our next invasion of a Middle Eastern country for two to three years."
– Jay Leno
Please forward this email to your friends so they can enjoy it too … and the WoodChips just LOVE attention!
P.S. Don't forget – if you have a friend who you think would like to get the WoodChips newsletter and be part of our forest, please forward me their first name and e-mail address. They'll get a polite invitation – which they can decline – and I never share my email lists. Just put Friend in the Subject Line. You can e-mail me here.
© 2011 J. Daniel Roberts. All rights reserved    www.TheWoodChips.com