This Edition: 

Bonus Halloween Cartoon-Costume Confusion

And:

New Rule For Washington-That Will Fix Their @#$!

 

Why not forward this

e-mail to your friends

 

Customer Comments

  

 

This is fantastic!  I printed my (Honorary WoodChips) certificate and have it hanging at my desk at work .

   Kaitlynn W. – St. Louis

Note that this was Kaitlynn's reponse to the following email notification from the WoodChips.

   Thanks for all your help and support. 

   You are hereby an Honorary WoodChip, and listed on the web site as such … just click this link

http://thewoodchips.com/honorary-woodchips.

   And enjoy your 15 minutes of fame.- J. Daniel
Chicken Gizzard Soup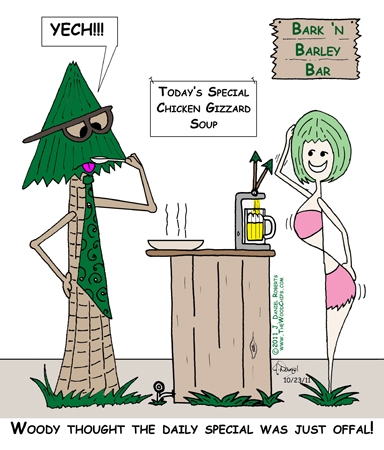 So I have to confess, I do actually like chicken gizzards, probably
something I shouldn't say out loud or in polite company.  That's because I
understand people come down pretty hard one way or the other on them –
there's no in-between opinion.
I had some friends over for a barbecue one afternoon and offered them
some chicken gizzards as an appetizer.  My friend Marty declined with
an unambiguous opinion that "what was inside the chicken should …   Click here for more Chicken Gizzards.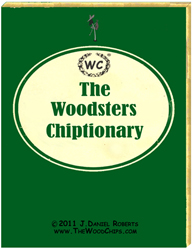 of·fal - [aw-fuhl, of-uhl] – noun – the parts of a
butchered animal that are considered inedible by human beings; – LIKE
Chicken Gizzards.
New Rule For Washington-That Will Fix Their @#$!
.
It seems that all the Washington politicians want to do is spend our
money to get re-elected.  That's it – money and re-election.  So if they
want to get re-elected so bad, let's make a new rule.The new rule is a law that says
"anytime there is a deficit
of more than 3% of GDP, all sitting members of Congress – and the
President -  are ineligible for re-election."
Let's call it the 3% Law.  And let's pass the 3% Law – that will fix their @#$!
I'd love to take credit for this idea, but honestly, my good friend
Dave sent me an email about it.  And the email says the idea came from a
quote by Warren Buffett.  The email is a chain letter, but there is
some basis of truth in it.
According to the Wall Street Journal, Warren did … click here for more New Rule For Washington.
Bonus Halloween Cartoon – Costume Confusion
Feel free to forward this email to your
friends so they can enjoy it too.
P.S. Don't forget – if you have a friend who you think would like to get the WoodChips newsletter and be part of our forest, please forward me their first name and e-mail address. They'll get a polite invitation – which they can decline – and I never share my email lists. Just put Friend in the Subject Line. You can e-mail me here.
© 2011 J. Daniel Roberts. All rights reserved    www.TheWoodChips.com