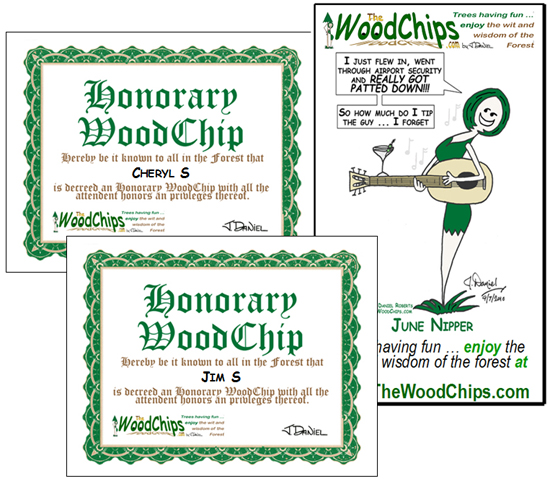 I thought to share a fun update with you this issue.  So, you may recall I was flying back to Orlando a couple of Fridays ago after being stranded in a St. Louis winter storm which had caused my earlier flights to be canceled.  Lucky for me, I was able to reserve the last available seat on a flight out of town the next day.
And in the madhouse at the airport I met a great couple in the airport security line and handed the wife the above pictured card after she had been singled out for a pat down by the TSA (click here for the entire story).
Also recall I said in my web site post that if they would email me with "TSA Couple" in the subject line, so I could pick it out of the thousands of emails we get, that they would become Honorary WoodChips for showing such a great sense of humor (which is the WoodChip Way) at the airport, and for checking out the site.
Which they did.
You can imagine my pleasant surprise and delight to see the following email in the WoodChips inbox.
To: jdaniel@thewoodchips.com
Subj: TSA Couple
Hello,
   What a GREAT article to come home and read!!  Jim and I thoroughly enjoyed it and shared with many family and friends. It is silly how they pick and choose people to "pat down/massage"…..but it was a good one and we will always remember that part of our trip….
   We will keep reading and thanks again!!!
Jim and Cheryl S.
Of course I called an immediate special council of the WoodChips Central Committee and the vote was unanimous to make Jim and Cheryl Honorary WoodChips (actually it was 120% in favor, which, ummm… implies some members voted twice – but hey, we say, vote early, vote often around here).
So congratulations to Cheryl and Jim!  And I hope they enjoy their fifteen minutes of fame
.
Concerning Honorary WoodChips in general, you may be interested to know that they have demonstrated in some way one of the three main principles of the Forest — see Are You A WoodChip?.
So that's our fun follow-up story for this issue.  And I hope you are living the dream – your dream (chuckle) and that you enjoyed today's newsletter.  Don't forget to forward it to your friends.  They can sign up for their own free edition by clicking here.
As always, I love hearing your comments and opinions.  You can contact me directly at JDaniel@TheWoodChips.com.
Have a nice day – J. Daniel