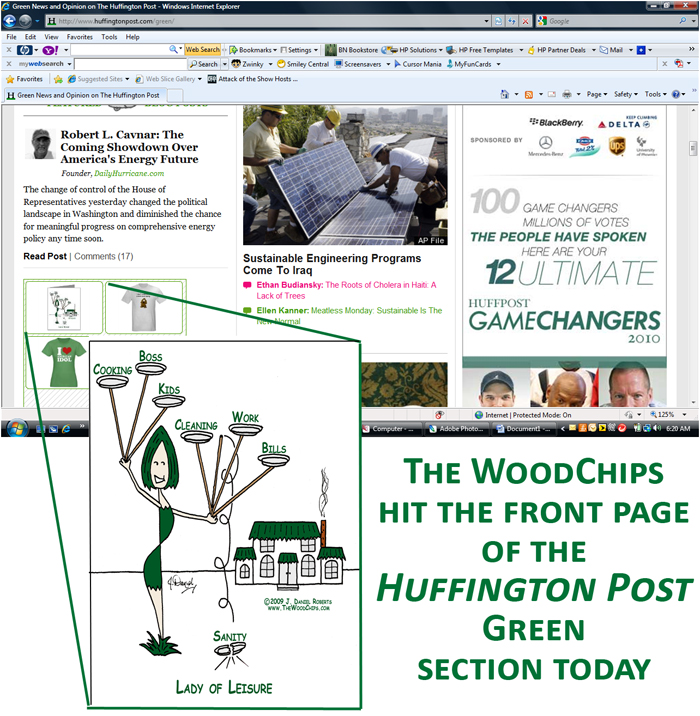 The WoodChips hit the Huffington Post front page as well as the Green environmental section front page this week.
The cartoon, called Lady of Leisure, sympathetically shows a WoodChip gal keeping all the plates in her life in the air.  Fun products featuring the cartoon were recently added to the WoodChips Store, including ten note cards for only $13.99, triggering interest in the WoodChips site and store.
Hitting the front page of the Huffington Post is no small feat.  The Post is ranked as the most powerful blog in the world by The Observer.   The site is visited by over 24 million unique viewers in a month.  To put that in perspective, that is five times more than many new-media rivals.  That's more than The Washington Post and USA Today, and almost as many as The New York Times.
The Huffington Posts has had many notable contributors.  A few you might recognize are Barack Obama, Robert Redford, Hillary Clinton, Bill Maher and many more.
The WoodChips are viewed regularly in over twenty-five countries around the world.
Life is wood – J. Daniel
P.S. If you are interested in the cards and other fun products featuring the cartoon, go to the WoodChips Store here.
P.P.S.  You might find the Huffington Post interesting.  They update the news throughout the day.  You can check out The Huffington Post here.