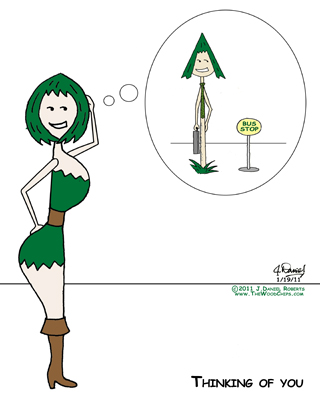 This is the last of three Tree-Cards (free e-cards) in the Thinking of You series.  Maple, the WoodChip Gal is thinking about Elmer, her WoodChip Guy.  Nice thought, by the way.
Okay, so now we have everyone thinking about everyone.  But thinking is just part of the deal, right?  Now maybe you should tell them about it.  So click on the Tree-Cards button above in the menu and send that special WoodMate a nice message.  No excuses, really.  The WoodChips Tree-Cards are free.  Did I say free.  Yes – free WoodChips e-cards.  And no pesky salesman like Woody will follow-up.
So have a Nike moment here – just do it!
And have a nice day – J. Daniel