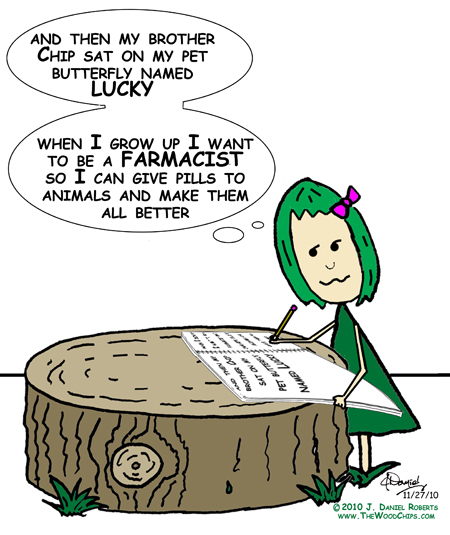 Ahhh … brothers and sisters – a bit of a Greek Tragicomedy here, wouldn't you say.
Our young WoodChip Cherry is writing in her journal and seems a bit miffed at her brother for sitting on her pet butterfly named LUCKY.  And she's also dreaming of becoming a Farmacist (Pharmacist) so she can make her butterfly better.
Hey, I think it's pretty cool she's writing in her journal.  I've written a journal off and on for years.  And to wax a bit philosophical on you, journals are great for writing dreams and memories … because somewhere between dreams and memories can be ambition and achievement – a desire to do better.
As lofty as that sounds, the entries can be simple, and short – like Cherry's.  No need to be Shakespearean here.
You know, many successful people have kept journals.  I think it's a key to their success.
Here's what Michael Masterson, bestselling author of The Pledge and founder of Early To Rise says.  "Keeping a journal is a wonderful thing to do for yourself.  It can help you figure out a direction for your life, and then guide you where you want to go."
You might say Michael is successful, having taken a business from $0 to $380,000,000 in ten years.  How about those dreams … and achievements.
Here's another.  In the year 1912, at age thirteen, a young woman took a train ride with her friends.  And she wrote an entry in her journal about it.
So simple.
Yet I think she must have written of other things as well – full of dreams and lofty, blue sky ambition.  Because she went on to become the most famous aviatrix of her time – in a time when only men were supposed to fly airplanes.
Her name was Amelia Earhart.  I'll bet you guessed that already.  She became the first woman to receive the Distinguished Flying Cross — for being the first woman to fly solo across the Atlantic Ocean.  And she set many other records as well before she was lost attempting a circumnavigation of the globe.
Some dream.  Some ambition.
And another.  She was blind.  She could not speak and she couldn't hear.  Her name was Helen Keller.  And kept a journal for a while.  And we think it's hard to keep a journal – maybe not so much.
Just a few more — no surprise here, really … George Washington, John Adams, Thomas Jefferson … Benjamin Franklin … they helped start a young nation called the United States.  Perhaps you've heard of it (chuckle)?  Some dream.  Some ambition.
And back to that memory thing, here's an interesting post a woman made on the internet about why she keeps a journal.
"My Senior year I had my first serious boyfriend… and second, and third. The last was the big love of my life.  First kiss and first everything else. We've been together ever since … and my journal helped me record all my happy memories so I could remember every sweet thing he ever said to me, every fun date we went on …"
Nice memories.  Don't you think she'll look back on this entry with pleasure when she's older, and relive those moments?
You can give a gift like this to someone special this holiday season.  Why not buy them a journal.  They're not expensive, and you can get them just about anywhere (including here if you like).  And even if that special person never writes in it, I'll bet they "get" the meaning of the gift you are giving them.
And you never know – the smallest thoughtful things we do sometimes set people on great paths.   Like Amelia Earhart, and Helen Keller and others.
I'll bet you have a lot to do this holiday season, so if this sounds like a good idea and you want to save some time, you can order some WoodChips journals right here.  They are unique and sold nowhere else … in the world … just here.
One woman in Los Angeles just ordered eleven of them.  She bought that dream and memory thing for the special people in her life.  And I hope one of those journals was for herself.  Because you can do this for yourself too, you know.
So if you like the idea, just click here to browse and shop. Or if you want to shop around, hey, that's okay too.
Because whatever you decide, the WoodChips wish you dreams and memories, and, ummm … also, that no one sits on your pet butterfly named LUCKY.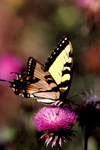 Have a nice day – J. Daniel