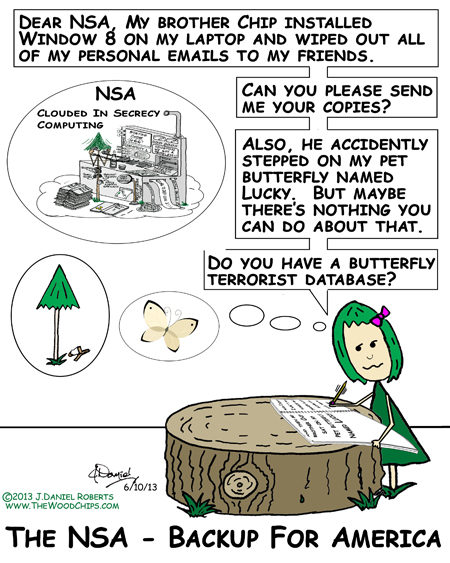 This whole NSA thing kind of puts a new spin on cloud computing… hmmm, clouded in secrecy computing that is.
And wow, who'd of thunk it.  The NSA is now providing free email file backup for all Americans.  That is to say, what with them copying and saving all of our email data, who needs backup anymore.  If you lose something, just write the NSA like Cherry did and they'll probably restore your files for free.
Those clever guys — what will they think of next?
Of course, being a government agency, there will probably be forms involved that you need to fill out (chuckle).
Have a nice day – J. Daniel
CARTOON DIALOG:
Setting:  WoodChips character Cherry is writing a letter to the NSA.  While she is writing, she is thinking of the NSA Computer – which says NSA – clouded in secrecy computing.  She's also thinking about her brother Chip, and her recently departed pet butterfly named Lucky.
Cherry: Dear NSA, My brother Chip installed Window 8 on my laptop and wiped out all of my personal emails to my friends.
Can you please send me your copies?
Also, he accidently stepped on my pet butterfly named Lucky.  But maybe there's not much you can do about that.
Do you have a butterfly terrorist database?