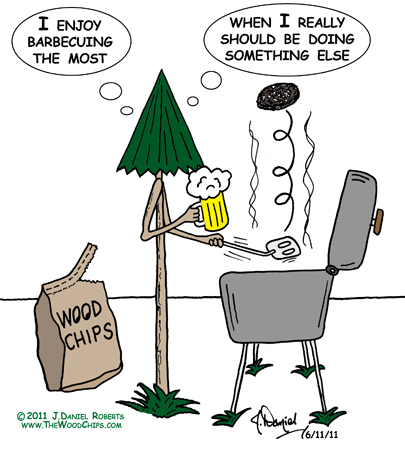 Isn't it amazing what procrastination does to us?
This cartoon puts me in mind of my night school days years ago.  I had a more than full time job managing the corporate IT department of a Fortune 500 company plus taking a full load of night school courses at Lindenwood University.
So while my friends were out partying and drinking I was a home every night with a load of homework staring at me.
In this situation I would sometimes find myself cleaning my house.  Amazing.  Because house cleaning is my least favorite thing … well, except for taxes … hmmm … and that death thing … so anyhow, housework is my third least favorite thing, to put a fine point on it.
That's still a really unfavorite thing.  And yet it became more attractive than doing my homework.
Which just goes to show  that you ALWAYS enjoy doing something more if you should be doing something else.
For example, right now I should be filling out a small questionnaire for an IMC Golden Ticket business seminar sponsored by Early To Rise that I am attending next Friday.  It's simple – only four questions.  It will take no more than fifteen minutes.  I know the answers off the top of my head.  I voluntarily asked for this and want to go to the seminar.  I must fill it out – should have Friday, really.  And I've been putting it off all day.
So I came into my computer room to get it done – and suddenly became more interested in writing this post.  Now that I've finished this post I suppose I'll find some compelling reason to go to Facebook.  Anything but the simple thing I need to do.
Hey, I might even clean my house up a bit.
This whole "doing something when you should be doing something else thing" is an immutable law of human nature, I suppose.
So I hope you're having a lot of fun doing something this weekend,
And I hope it's because you should be doing something else
.
J. Daniel