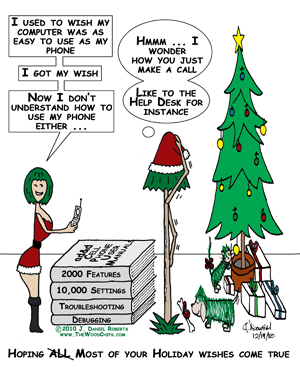 Have you ever had this happen?  Maple got a new cell phone for Christmas and Elmer and she are puzzled about how to use the darn thing.
Especially how to just make a simple phone call.
I'm sensitized to that fact because I recently made a phone upgrade with major phone carrier Runs Fast (not their real name).  It seems like our technology just gets more complicated by the day.  I'll bet Maple and Elmer are thinking, "be careful what you wish for, you just might get it," about now.
But there's a silver lining to the story — after all, she did get her wish.  And I find that quite often we really can get what we wish for if we make the right wishes, and plan, and set goals.
You'll be hearing more about that in the future.  But just now, in the spirit of the season, I'm hoping most of your Christmas wishes come true, and ALL of them come true if they work out the way you anticipated — or better.
From the WoodChips and me, thanks for being the most important part of our WoodChips Forest in 2011.  Because of you, the WoodChips have gone from being regularly viewed in 85 countries around the world to 106 countries this year, and from 54,000 site hits a month, to over 130,000.  We are rapidly approaching the million hits mark.
Have a great holiday season – J. Daniel