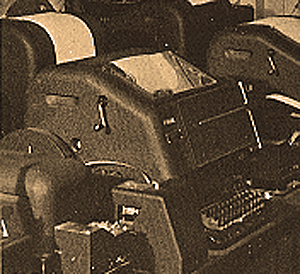 So everyone is all hip with technology and texting messages to each other these days and feeling like they're doing something new.
But there are few new ideas under the sun, really.  A little known fact is the older generation had message texting too.  It was called the teletype, and current texting messages remind me of it because we could send stuff with just letters and no pictures too.
True, it was a primordial time when Studebakers roamed the woods, and you could understand the words of popular songs, which were actually more than one word and chord played over and over at twelve thousand decibels — but for sure — we had text messaging.
It's not a new thing at all.
We called it the teletype.  Same thing as text messaging really.
So if you're over forty, or fifty, or whatever, and you want to take a trip down memory lane, or show off our generation's technology to a younger generation, you really want to click here to see this demo.
True, we didn't have all the abbreviations for phrases — I mean, BCNU was about it — but we'll leave a little for the younger generation.
Still, it does make you kind of swell up with pride, doesn't it!
Have a proud day – J. Daniel
P.S. The belt clip-on case was a bit of a BI%CH, but no need to point that out if nobody asks, if you get my drift.