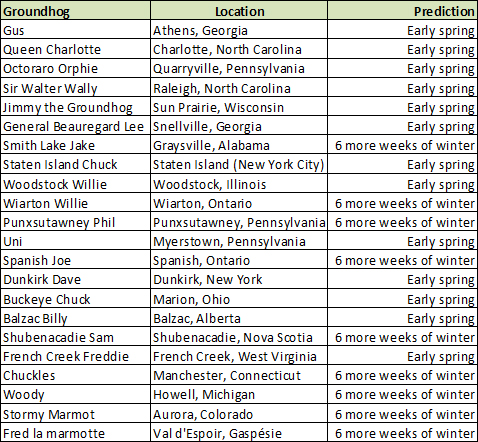 Groundhog Day is celebrated in the United States and Canada, presumably because they have areas that can get really cold.  So by this time of the year people are winter weary and in need of hope that the sun will shine again and Spring will arrive.
Lending credence to the "cold weather" theory is the fact that Groundhog Day doesn't seem such a big deal here in Florida.  If you mention Groundhog Day in Orlando, everyone will pretend that you are talking about the movie starring Bill Murray, casually mentioning that entertainment is a big thing here in Disney country.
But don't be fooled.  They are using this as a dodge to keep from dredging up old feelings about this highly controversial subject here in the deep South, i.e. it almost started the second Civil War (known as Civil War II) resulting in Orlando threatening to secede from the Union.
It all started years ago, when some local booster tried to get Groundhog Day celebrated in a big time way, with parades and merchandise and related stuff like that.  Good as this may sound; the whole thing became highly controversial and rapidly spun out of control.
My research revealed two hotly contested issues.
The first involved cruelty to animals.  You see, the little groundhogs would pop out from under their beach umbrellas every year to see if the sun was shining and warm weather would return in six weeks.
The problem was, the sun was always shining and it was always warm, and they began to feel like they were living a pointless existence.  They took to drinking and moping about, often muttering "what's the purpose of life," under their little groundhog breath.  And of course they suffered from depression a lot as well.  It was pathetic, really, and the whole thing was getting out of hand with mopey little groundhogs everywhere a body would turn — until PETA stepped in and began pressuring the evil boosters to cease and desist.
Which is just as well because the political consequences here in Orlando were also about to blow up.  You see, since a groundhog is a rodent, many people felt that Mickey Mouse (also a rodent) should be the one to pop out from under his beach umbrella to proclaim to the world, "Yup, the sun is shining."
People take their Mickey Mouse / Disney stuff pretty serious down here, so the clash between the Mickey Mousers and the Ground Earthers (as they were called) quickly deteriorated into food fights and catcalling and the hurling of insults at each other like "You don't know your B@#! from a groundhog hole in the ground."
Fortunately, cooler heads prevailed and the PETA action helped put the thing down.  Aside from nobody wanting to talk about it much, things have been relatively calm ever since (presumably the warring factions went underground).
Now, for you doubters out there, I admit my facts may be a little uncertain here – but I pretty much think this happened, or could have happened … and for sure Mickey Mouse is a rodent and lives here in Orlando, so the other stuff is probably accurate as well.
That said, if you are in a colder climate, I understand that Ground Hog day is a HUGE BIG DEAL because it gives you hope that the cold weather will be going away soon.  As a native of the Great Frozen North myself, I still follow the more prominent groundhogs and their predictions (see exhaustive list).
My favorite GF's (Groundhog Forecasters) are Woody and Woodstock Willie, but really, these are all the Crème de la Dirt, so I don't think you can go wrong with any of them.
I've listed the top GF's and their last year's predictions.  This way, you have adequate information to pick one based on their professional credentials and get a truly accurate forecast for your region.
So read through the list, choose carefully, good luck, and here's wishing you get a favorable Spring prediction on Groundhog Day.
J. Daniel (popping his head out from under the beach umbrella).
P.S. Many thanks to Wikipedia and their contributors for the great research on this subject … except for the Groundhog Wars in Orlando piece, which I claim entirely, and have a nagging suspicion Wikipedia wouldn't want to claim anyway.
Table of Top Groundhogs in the Nation – 2010 Predictions – Word Chart
| | | |
| --- | --- | --- |
| Groundhog | Location | Prediction |
| Gus | Athens, Georgia | Early spring |
| Queen Charlotte | Charlotte, North Carolina | Early spring |
| Octoraro Orphie | Quarryville, Pennsylvania | Early spring |
| Sir Walter Wally | Raleigh, North Carolina | Early spring |
| Jimmy the Groundhog | Sun Prairie, Wisconsin | Early spring |
| General Beauregard Lee | Snellville, Georgia | Early spring |
| Smith Lake Jake | Graysville, Alabama | 6 more weeks of winter |
| Staten Island Chuck | Staten Island (New York City) | Early spring |
| Woodstock Willie | Woodstock, Illinois | Early spring |
| Wiarton Willie | Wiarton, Ontario | 6 more weeks of winter |
| Punxsutawney Phil | Punxsutawney, Pennsylvania | 6 more weeks of winter |
| Uni | Myerstown, Pennsylvania | Early spring |
| Spanish Joe | Spanish, Ontario | 6 more weeks of winter |
| Dunkirk Dave | Dunkirk, New York | Early spring |
| Buckeye Chuck | Marion, Ohio | Early spring |
| Balzac Billy | Balzac, Alberta | Early spring |
| Shubenacadie Sam | Shubenacadie, Nova Scotia | 6 more weeks of winter |
| French Creek Freddie | French Creek, West Virginia | Early spring |
| Chuckles | Manchester, Connecticut | 6 more weeks of winter |
| Woody | Howell, Michigan | 6 more weeks of winter |
| Stormy Marmot | Aurora, Colorado | 6 more weeks of winter |
| Fred la marmotte | Val d'Espoir, Gaspésie | 6 more weeks of winter |