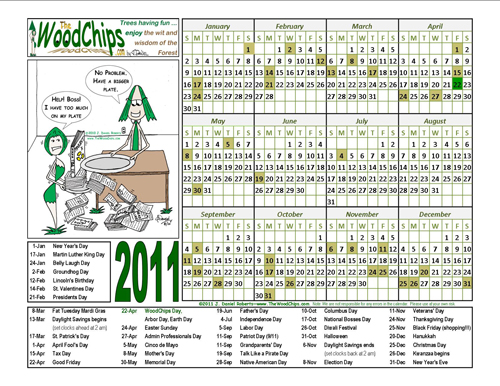 Todays post is all about our free 2011 WoodChips calendars.  They've been quite a hit around the office. 
And no wonder.  Besides having all the conventional holidays, they have the really COOL holidays, like Talk Like A Pirate Day, Belly Laugh Day, Fat Tuesday (of course) and even International WoodChips Day – which just happens to coincide with Arbor Day and Earth Day — go figure. 
Also, they feature BIG TYPE for some of us (not mentioning any names here) whos arms aren't long enough to read things these days.  The last thing I expected as I got older was that my arms would get shorter.  Life is just chock full of surprises. 
Oh, so some of you may be wondering why the 2011 calendars are coming out in late February perhaps.  I'll explain that more in next weeks edition.  Our feature article and cartoon will be On Being Human — Rationalization and Procrastination.  That is, if I get around to doing it (chuckle). 
Back to the calendars — there are four for you to choose from.  Each one has a different WoodChips cartoon.  Shown below are the four cartoon choices. 
So get your free WoodChips calendars now.  Personally, I wouldn't want to go through the year and forget something as important as Talk Like A Pirate Day.
 Have a nice day (aaarrrgh) – J. Daniel