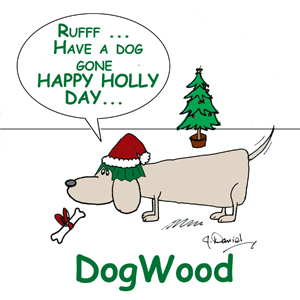 So DogWood finally finished his Christmas card and he's real proud of it.  I mean, it's hard to draw these things when you have paws and stuff.  And he's right proud of his little pun about Holly Days (holidays – he wanted me to explain it – chuckle).
That DogWood, he's a real card.
Anyhow, you can send his card to your friends – he'd pretty much love that. 
Just click TreeCards above and send to a friend.
Also, if you'd like to leave any comments for DogWood, just click the post title above and then write in the comment box that appears below.
Have a nice day – J. Daniel