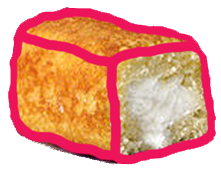 Shown above is a Twinkie like snack that will illustrate one type of effective diet.  Illustrating the other type of diet will be Crystal Harris, the 24 year old former Playboy Playmate who just became engaged to 84 year old Hugh Hefner.  You can see pictures of her and Hugh (G-rated) in a link below the article.
So what two types of diets am I talking about?
I call them the carbohydrate diet (Crystal Harris) and the calorie diet (Twinkies).  Both are effective.  Like Crystal Harris, I've had more success with the carbohydrate diet, but I have a number of friends who do well and maintain a nice shape with the calorie diet.
In the carbohydrate diet, you count carbohydrates.  This means you stay away from high glycemic carbohydrates like potatoes, bread, etc., and eat more low glycemic carbohydrates like high fiber vegetables (broccoli, spinach, green beans, etc.) and you eat protein like turkey, fish, chicken and some other meats.
In a recent interview, Crystal Harris was ask if she diets.  Her answer was a dead giveaway to a carbohydrate oriented diet.  She said, "I stay away from carbs as much as I can and I try to not eat pasta or potatoes. If I eat that stuff, it shows right away. I like ice cream though, and chocolate."
Okay, so we'll ignore the ice creme comment, and chocolate — well that's an entirely different God Like food group that could be the subject of a long discussion – so we'll ignore that as well.
The advantage of the carbohydrate diet, and why it appeals to me, is that you never need to be hungry.  Many of the foods on the diet have almost unlimited portions.  For example, you could probably eat your weight in broccoli and still lose weight (some folks might wonder why anyone would actually want to eat their weight in broccoli).
The disadvantage is you eliminate, or restrict, the types of foods you eat.
In the Twinkie diet (calorie diet) you don't restrict anything from your diet but you very carefully watch how many calories you consume per day.  So the disadvantage is you may be a bit hungry at the beginning of the diet, but the advantage is you don't cut out any of your favorite foods.
There's a reason why I call this the Twinkie diet.  Twinkies can be used to prove that strictly counting calories works.  Ignoring the food quality issue, you CAN LOSE WEIGHT by eating only Twinkies (and similar snacks) if you keep your calories in line.  This was proven by college professor Mark Haub in 2010.  His point was that "in weight loss, pure calorie counting is what matters most — not the nutritional value of the food."  Click here to see the Twinkie article.
Mark lost 27 pounds in 2 months by only eating Twinkies, Oreos and Doritos.
Now I don't recomend this, but it proves that the calorie conting diet works.
The debate between the two goes on — but I think both are fine, and it's nice we have a choice.
Finally, to prove the carbohydrate diet is extremely effective as well, I lost 30 pounds in 6 months using it.  I record my weight and per cent body fat every day (interesting note – one of my favorite authors, Ernest Hemingway, used to write his weight on the bathroom wall every day — I don't do the bathroom wall thing — paper works fine).
If you look at my chart I kept below, you will be convinced the carbohydrate diet works as well.  Now, all I have to do is get back on it more religiously (chuckle).  If you want to read an excellent book on the subject, I suggest The Perricone Prescription.  This is what I used to lose the weight.  You will find it interesting.
One final point — I did this with the simplest exercise plan you can imagine.  I got the idea from Covert Bailey's Fit or Fat series of books and PBS broadcasting.  But that's the subject of another post.
So which diet do you prefer — and why. Or are you considering going on a total Twinkie cup cakes diet now — IMPRESSIVE.  To leave a comment just click on the title of this post and leave your thoughts in the comment box that will appear below.
Finally, to wrap up, here's the link to Crystal Harris.  And if you get past that, my dramatic weight loss chart is below. I'll bet a certain 50% of you don't get that far (chuckle).
Wishing you the best (and if you are resolving to diet — the slimmest) New Year in 2011 – J. Daniel