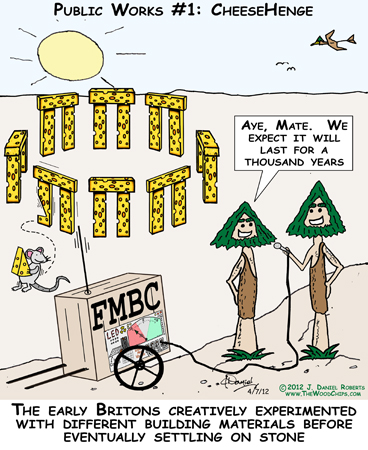 In all fairness, I must give credit to a British friend of mine, Gerald,  for the CheeseHenge and building materials concept, who in all fairness tells me he got the idea from someone else, I think famous and in Britain, a comedian named Eddie Izzard, who is quite funny – so anyhow, that's the whole fairness and credits thing – chuckle.  I hope the cartoon lives up to their expectations.
So, outside of my own uncontrollable imagination, I also get cartoon ideas from astute and creative WoodChips readers like Gerald, and Eddie. who have now been inducted into the Honorary WoodChips Hall of Fame.
If you have cartoon ideas, I'd love to hear them.  Just click on the title of this post and enter your idea in the comment box that magically appears below.  You could be the next Honorary WoodChip if you do.
And wouldn't that just make your day
– J. Daniel
Cartoon dialog:
Setting: A pre-Stonehenge created by the early Britons made out of cheese.
The British public works project manager, who looks amazingly like a NeanderTree, is being interviewed by a reporter from FMBC.
As a mouse in the background is running away with a big hunk of cheese he just cut out of CheeseHenge, which is starting to fall over, the BC Project Manager is saying to the reporter, "Aye Mate, we expect it will last for a thousand years.
The caption to the cartoon says: The early Britons creatively experimented with different building materials before eventually settling on stone.