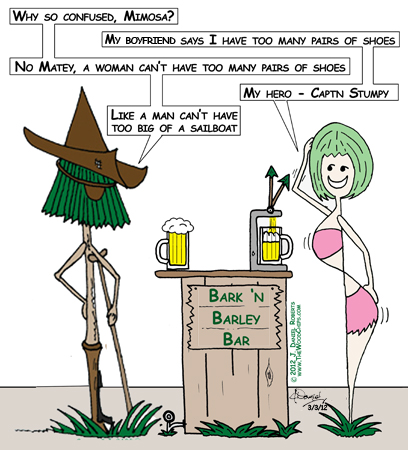 This cartoon was inspired by a Facebook post from Kim G.  Kim has now been made an Honorary WoodChip for her insightful question and inspiration.  You can see her name listed among other luminaries in our prestigious Honorary WoodChips list – click here at Honorary WoodChips.
Kim is also the Go To Guru of all things in Social Media.  So whether you are a professional looking to increase traffic to your site, or a FaceBook poster that wants to be better at it than all your friends (not that any of us are competitive or anything, heh, heh), you will want to visit her site at Kim's Site – click here.
If you agree that a woman can't have to many pairs of shoes, you might like the bag, card, or T-Shirt shown below – and many more choices and fun things -  at the WoodChips Store.  Just click here or the image below to go to the store.
And have a nice day – J. Daniel