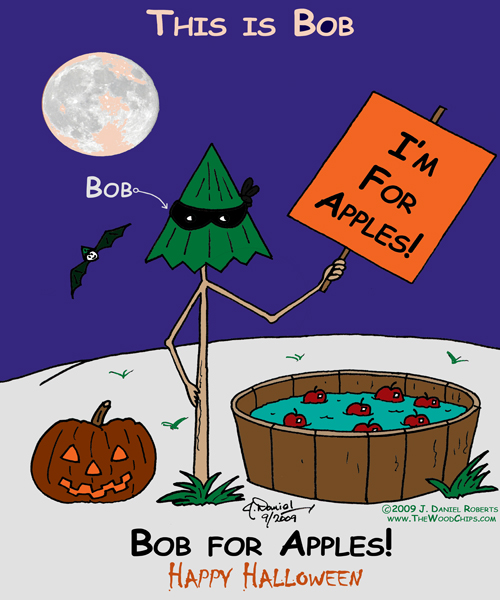 Apple bobbing may be an ancient tradition that we have carried on to today.  There are some thoughts it may go all the way back to pre-Christian Ireland, although there is not much evidence to support this.  But we know more certainly the practice was around a couple of hundred years ago in the British Isles.
In Scotland it may be called dooking (ducking) and in some places in Ireland known as Snap Apple.  And over in Newfoundland, Halloween is also called Snap Apple night.
Unless you are a vampire with pointy teeth – a possibility on Halloween I guess – it is difficult to actually get the apple in your mouth.  Best to push one to the side of the barrel where you can push against it.  Or if you are really imbued with the spirit, push one all the way to the bottom to get a grip on it.  You won't need to wash your hair after that maneuver.
And finally, the WoodChips really get down with this apple bobbing thing and Halloween in general – especially the apple trees.
So have a Happy Halloween dooking those Snap Apples – J. Daniel