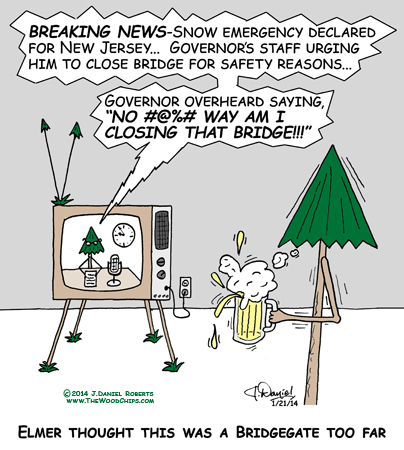 For those watching the news lately there is a possible scandal going on in the state of New Jersey.  It seems that some of Governor Chris Christie's staff ordered the closing of a key bridge for political retribution in the recent past.  There are emails proving this, although there has been no direct connection to the Governor proven. But he is under intense investigation at the moment.
Adding to his problems, there is also a major snowstorm about to hit New Jersey.  So you can imagine the colorful conversation with the Governor if the staff recomended that he close the bridge for safety reasons ahead of the storm.
Political Correctness Note 1.  This converstion may or may not have actually happened.  Sometimes I just make stuff up.
Political Correctness Note 2.  If we happened to hit your favorite political party, be assured we are not picking on them or singling them out.  We disrespect both major political parties equally
.