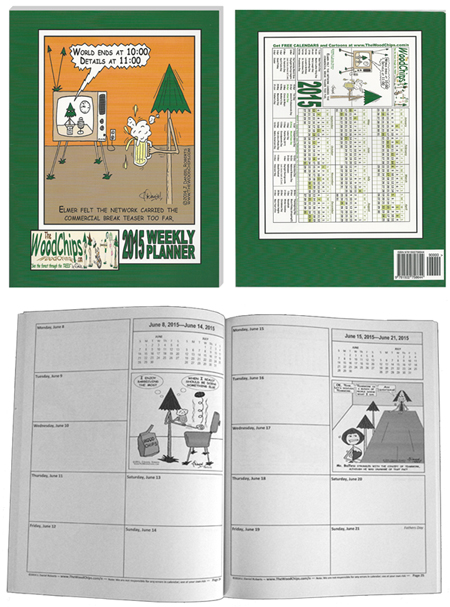 Get 4.333 More Smiles Per Month and Keep Your Life From Spinning Out Of Control with the new 2015 WoodChips Weekly Planner.
Hey, those funky monthly calendars only have 12 pictures for the year and tiny, microscopic little boxes to write in all your important stuff.  You could run out of space!  Miss important things!  Your life could spin out of control!  Aaaarrggghhhh!!!!
But the WoodChips Weekly Planner has BIG, 8 1/2 by 11 inch pages, one per week… and a cartoon per page to keep you smiling all week long.  Just do the math.  Instead of 12 cartoons you get 52.  That's 52 / 12 = 4.333 more smiles per month.
And big boxes to write all your important stuff!
By the way, the WoodChips are regularly viewed in over 150 countries.  Here's what people are saying about them…
"This is fabtabulous!!! I loved it  Made me smile and smile and smile and… you get the idea." (Rena Schrein – CEO – North Carolina)
"He has a clever theme and a timely one…" (Eleanor Ehrhardt – former editor at Random House)
"WoodChips are so DAMN good…" Bob Gerringer, Los Angeles)
So get your 4.3333 more smiles per month.  Just click here for the WoodChips 2015 Weekly Calendar Planner.
And don't let your life spin out of control.  Just click here to get your Calendar Planner now.
Aaarrgghh!!!  Hmmm… not sure where that came from but just click here to get your Calendar Planner anyway